D'Onofrio's Food Center has a rich history in serving the people of the Shenango Valley since 1916. Founder, August D'Onofrio started our grocery store right in his home. When time came to expand, he bought the vacant lot across the street and built a neighborhood grocery store.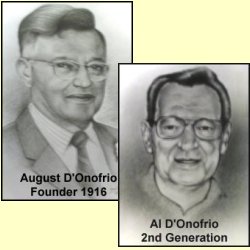 Albert D'Onofrio, August's son, had moved the store's location to where it is currently located in Hermitage, PA on April 29, 1964. After many years of serving the community, the store underwent a remodeling in February of 1989 to increase the store floor, increase the size of our Deli and Bakery departments and added our front service counter.

Third generation owner, Joseph (Joe) D'Onofrio, made waves in the community during his tenure as the store owner. He could always be seen throughout the store lending a hand to customers as well as employees and continued to keep the community happy with the highest quality of services provided.

Joe D'Onofrio led the way for his son, Al D'Onofrio, and instilled the knowledge of prior generations to pave the road ahead. Al is now the current owner and takes great pride in serving the community. He continues to thrive in his position as owner and can also be seen throughout the store, helping at every opportunity.